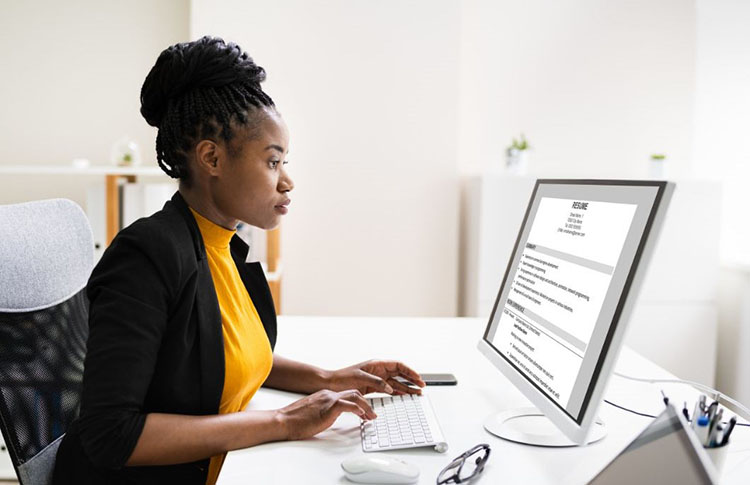 Producing a good resume is a basic requirement for a successful job search. A resume is critical in helping employers understand your experience and educational background and what you have to offer as a potential employee. Berkeley Career Engagement is here to assist you with this important task. For college students, we recommend a simple, one-page format. Ramped Careers resume builder can help you create or update your resume quickly and easily. 
Creating an Effective Resume
A well-crafted resume can set you apart from other candidates. Strong resumes do more than summarize your educational background and work history; they emphasize the results of your efforts and draw clear parallels between your skills and experience and an employer's needs. Here are steps to accomplish this:
Choose a Simple Format with a 10-12 point font size and between .5-inch to one-inch margins all around. Include bold, italics, and underlining for emphasis and to guide the reader.
Resume Sections should include your contact information (name, email address, phone number, and LinkedIn URL), educational background, work and volunteer experience, projects, and skills.
Analyze the Position Description to tailor your resume to each job and to understand the required and preferred qualifications, skills, and abilities.
Generate a List of Accomplishments to include in each section. Your resume should uniquely reflect you. Be sure to focus on the outcomes of your efforts and quantify your results if possible.
Identify Relevant Skill Areas that focus on transferable skills and achievements that are desirable for the position/field/industry. Make sure each accomplishment highlights a skill the employer is seeking, often listed in the position's responsibilities and qualifications.
Write Descriptive Phrases using strong action verbs and concise phrases to describe experiences that demonstrate your relevant skills. The accomplishments on your resume should ultimately be targeted to address an employer's needs.
More detailed information about developing your resume can be found in the Career Readiness Workbook.
Helpful Links
Here are a few links to resources to help you create your resume:
Sample resumes for undergraduates and transfer students, veterans, master's, and PhDs from a variety of STEM and liberal arts majors.
Using a tool like Ramped can help format and organize your resume quickly and easily.
Check out the Resume section of the Career Readiness Workbook for useful tips to create an effective resume.
List of action words to help you craft your bullets for each experience.
Need a resume review or have a question? Make an appointment with a career counselor or meet with a peer advisor.
Resume: Frequently Asked Questions
The purpose of a resume is to stimulate the interest of a potential employer enough to want to interview you. Resumes provide a brief overview of your skills and experience and demonstrate your aptitude for the job you are applying for. You might use a resume at career fairs and during informational interviews, to apply to jobs and internships, to accompany a request for a letter of recommendation, and as part of a graduate school application.
What's the difference between a resume and a curriculum vitae?

A curriculum vitae (CV) is an academic resume and is used for research and college/university teaching positions. A resume is brief - usually one page - and focuses on work experience. A CV can be as long as it takes to state one's qualifications, publications, papers presented, etc. Sometimes people ask for a CV when they really want a resume. Be sure to check with the person requesting it to be certain you are using the correct version for that position.
Can a resume be more than one page?

Yes, a resume can be more than one page, but it shouldn't be unless you have extensive experience related to your job objective. Most resumes for college students and recent graduates should fit onto one page if you clearly and concisely describe your experiences.
What's the best format: chronological or skills/functional?

There is no "best" format for all resumes as it depends on what you have done and what you are trying to accomplish. Usually, if you are applying to a more conservative industry (e.g. banking) or continuing along a prescribed career path in which you have gained some experience (engineering, for example), you'll want to use a chronological resume. A skills/functional resume works well if you have little work experience, are entering a career that is very different from your educational path, or are changing careers.
Should I include jobs I've had that don't relate to the job I'm seeking?

Your resume should include sufficient experience to demonstrate your ability to do the job that you are applying for and to show yourself as a person with experience in the working world. Directly related experience is considered most valuable, but unrelated jobs can also help you to show that you have acquired the necessary skills. If you are unsure which jobs to include, make an appointment with a Career Counselor.
Should I include my volunteer experience on my resume?

Yes! Volunteer work allows you to acquire hands-on experience and develop skills in the same way that paid positions do. Future employers want to see that you have developed skills and demonstrated them in a working environment. It is not important that you were paid for your work, only that you can do it. Volunteer positions do not need to be designated as "volunteer" nor do they need to be listed separately.
Do I include personal information, such as interests and hobbies?

Placing your interests and hobbies on your resume can help an employer get an idea about who you are as an individual. However, this is not an essential part of most resumes and is one of the first sections to be removed if you run out of space. The best hobbies to include are activities in which you were actively involved that allowed you to develop and demonstrate transferable skills such as leadership, event organization, or financial management. Be specific about what you did while participating in these activities and avoid a "laundry list" of organizations.
Do I include my GPA on my resume?

As a student or recent graduate, your academic achievement will be one of your most important assets. The basic rule of thumb is "if you've got it, flaunt it;" it is appropriate to include your GPA on your resume if it is 3.0 or above.
How can I get more help with my resume?

Berkeley Career Engagement offers several different resources to assist with creating or updating your resume. You can also have your resume reviewed during an appointment with a counselor or during drop-in hours with a peer advisor.
What is an ATS and how do I make an ATS-friendly resume?

An applicant tracking system or ATS is what you upload your resume to when you apply to a position online. Companies and organizations use different applicant tracking systems with different capabilities. To make sure your resume is ATS friendly and uploads successfully, use standard formatting: standard fonts (e.g., Times New Roman), section titles (e.g., Education, Projects, Experience), work history format (position title, name of company, and dates), and avoid using headers, footers, text boxes, tables, colors, pictures, or graphics. Use a Word or Google Doc, or convert to a PDF. Follow the instructions on which document format is recommended to upload when applying for jobs.